Celebrity Basketball Team U.S.O. Tour
September 19 – 28, 2008
Germany, The Netherlands, and Belgium


The Hollywood Knights is honored to be working with the USO (www.uso.org) in fulfilling their mission of boosting troop morale by bringing celebrities overseas traveling to Germany, Netherlands, and Belgium. The Knights will play a series of basketball games against a team comprised of members of the armed services troops at various military bases. These games will provide fun and exciting competition with stars never before experienced by our troops overseas.
This game will be complimentary to all United States military and Department of Defense card holders, their families, and their immediate guests on the various bases that are listed below. Please contact the base MWR for more details.  Sorry to all of our fans that are non part of the United States military and/or their families as these games will not be open to the general public.  We welcome you to come out and spend some time with the Hollywood Knights and experience some fun with us for just a little while. Bring your cameras and get some autographs. You might even have a chance to take a free-throw shot for the Hollywood Knights team.
The USO is a private, nonprofit organization whose mission is to support the troops by providing morale, welfare and recreation-type services to our men and women in uniform. Historically, few events have left a more lasting emotional impression on service members and their families than USO celebrity entertainment tours.
USO Tour Schedule

Game #1 Sunday, September 21, 2008 U.S. Army Garrison Mannheim, Germany.
Game starts at 5:00 PM.

Game #2 Monday, September 22, 2008 Ramstein Air Base, Germany.
Game starts at 6:00 PM.

Game #3 Tuesday, September 23, 2008 U.S. Army Garrison Baumholder, Germany.
Game starts at 7:00 PM.

Game #4 Thursday, September 25, 2008 Spangdahlem Air Base, Germany.
Game starts at 7:00 PM.

Game #5 Friday, September 26, 2008 Joint Force Command Brunssum, Netherlands.
Game starts at 6:00 PM.

Game #6 Saturday, September 27, 2008 U.S. Army Garrison on Chievres, Belgium.
Game starts at 6:00 PM.
| | |
| --- | --- |
| Celebrities Scheduled to Attend: | Page Updated: |
| | |
| --- | --- |
| | Brad Beyer - He is currently starring as "Stanley Richmond" for two seasons on the television series JERICHO.  |
| | DJ D-Wrek - He is currently starring in his fourth season as the mix-master of music on MTV's comedy show WILD N' OUT. |
| | Eric Millegan - He is currently starring in his fourth season as "Dr. Zack Addy" on the hit FOX television series BONES. He also has extensive Broadway credits. |
| | Geoff Stults - He is currently starring as "Eddie Latekka" for two seasons on the television series OCTOBER ROAD.  He also co-starred as "Ben Kinkirk" on the WB television series 7th HEAVEN. |
| | Leonard Robinson – For four seasons he has been starring as one of the comedic improvers in the MTV television series NICK CANNON PRESENTS: WILD 'N OUT. He also starred for a season in the television series SHORT CIRCUITZ and in the ESPN mini-series THE BRONX IS BURNING. |
| | Matt Czuchry – He is currently recurring as "Chris Kennedy" on the television series FRIDAY NIGHT LIGHTS.  For three years he played the role of "Logan Huntzberger" on the television series GILMORE GIRLS. |
| | Sam Page - He has been starring for two seasons as "Casey Woodland" on the Emmy nominated television series SHARK.  He also had starring roles on the television series' POINT PLEASANT and AMERICAN DREAMS.  He has made People's Magazine list of their "Most Eligible Bachelors." |
| | Stephen Colletti - He is currently co-starring as "Chase Adams" in the hit television series ONE TREE HILL.  For two seasons he starred as himself on the MTV television series LAGUNA BEACH. |
| | Wolf - He is currently starring in his second season on the NBC hit television series AMERICAN GLADIATORS. He's also won in the professional rodeo circuit as a bullfighter 2 world titles and 3 National Final Rodeo rings. |
Press:
| | | |
| --- | --- | --- |
| USO 2008 - Eric Millegan | USO 2008 - Matt Czuchry | USO 2008 - Spangdahelm Air Base |
| | |
| --- | --- |
| Game 1 - MANNHEIM ARMY BASE GERMANY | |
| | |
| | |
| | |
| | |
| | |
| | |
| | |
| | |
| | |
| | |
| | |
| | |
| Game 2 - RAMSTEIN AIR FORCE BASE GERMANY | |
| | |
| | |
| | |
| | |
| | |
| | |
| | |
| | |
| | |
| | |
| Game 3 - BAUMHOLDER ARMY BASE GERMANY | |
| | |
| | |
| | |
| | |
| | |
| | |
| | |
| | |
| | |
| | |
| | |
| | |
| | |
| | |
| | |
| Game 4 - SPANGDAHLEM AIR FORCE BASE GERMANY | |
| | |
| | |
| | |
| | |
| | |
| | |
| | |
| | |
| | |
| | |
| | |
| | |
| | |
| | |
| | |
| Game 5 - BRUNSSUM AIR FORCE BASE NETHERLANDS | |
| | |
| | |
| | |
| | |
| | |
| | |
| | |
| | |
| | |
| | |
| | |
| | |
| | |
| Game 6 - CHIEVRES ARMY BASE BELGIUM | |
| | |
| | |
| | |
| | |
| | |
| | |
| | |
| | |
| | |
| | |
| | |
| | |
| | |
| | |
| USO OFF COURT | |
| | |
| | |
| | |
| | |
| | |
| | |
| | |
| | |
| | |
| | |
| | |
| | |
| | |
| | |
| | |
"When we first landed in Germany, I was immediately homesick and a little scared about spending so much time away from the comforts of home. But I love basketball and I knew it would be fun. And boy was it ever. I was so much fun to feel like a basketball star with opening introductions, cheerleaders, and a raucous crowd. And I played the best I have ever played because of my dear teammates – they had so much confidence in me. On top of that, I was blown away by how many fans we all had…so many "Bones" fans. Signing so many autographs and posing for photos was a little overwhelming. And people were so grateful for our being there to entertain them. My teammates were so good at playing to the crowd and involving the children in attendance. We really brought joy to these people and families who have been separated sometimes over a year. I'm really proud of us for bringing them some good cheer. I want to thank the Hollywood Knights and the USO for having me as a part of this tour. Thank you Traci, Vicky, Michael, Jeff, and all the other people who helped make this experience possible. My teammates and crew are now dear friends that I will always cherish!"

Eric Millegan – "Bones"
"Thank you to the Hollywood Knights and the USO for all the work you put into to making this trip memorable, enjoyable and smooth sailing for us. Not to mention putting a team together of great people from the entertainment business, that's hard to do. I don't know how you did it but everybody was awesome in their own way. Meeting the soldiers and their families and entertaining the crowds was an honor. This trip was amazing, thank you to everyone involved for a life-changing experience. "

Stephen Colletti – "Laguna Beach" "One Tree Hill"
"My experience on the HK USO Tour was amazing, and though I'm sure that I'm not the only to say this I'll say it anyway, life-changing. I love to travel so of course I enjoyed the visits to towns around Germany, Netherlands, and Belgium. However, the opportunity to visit our military bases and spend time, not only entertaining the people living and working on the base but also spending time talking to them and hearing their stories and in the luckiest of cases, getting to know them. The trip was painstakingly planned and flawlessly executed by the Hollywood Knights staff and the USO. My only complaint would be that the tour had to end! I owe a debt of gratitude to Hollywood Knights and the USO for this amazing experience. "

Sam Page – "Shark"
"During our time on this Earth, we are only the experiences within our soul. When we are gone, we are only the things that we leave behind. With the Hollywood Knights USO Tour in 2008, my soul is forever changed with a greater understanding of the human condition and the world in which we live. With our trip to Military bases in Germany, Belgium, and The Netherlands, The Hollywood Knights and the USO have left behind an example of kindness and generosity that will be passed on for generations to come. This combination of internal growth and making a difference for others leaves me with the most important currency of all in life, happiness. I am deeply grateful to all associated with the Hollywood Knights and the USO for including me in an adventure of a lifetime. Thank you for your time, love, and spirit. It has made the world a softer spot to land."

Matt Czuchry –"Gilmore Girls" "Friday Night Lights"
"I have to say that this USO trip with the Hollywood Knights has been truly special. To spend time with the troops and families of our fighting forces was amazing. Getting the chance to entertain them with our basketball skills was a homer! Michael, Vicky and Traci were gracious and amazing hosts as was Jeff our tour producer. I would participate in anything the Hollywood Knights ever do in the future. This was a real joy and I will never forget this trip!"

Brad Beyer – "Jericho"
"One of the most amazing things I've ever done was this 2008 USO Tour with the Hollywood Knights. I've been around the country and met all types of fans and had great interactions with people who have seen my work before but nothing like this. I really felt honored to be able to entertain the troops and their families especially during this time of war. This trip really put into perspective for me who is actually out there on the front lines fighting for America and freedom across the world. The audiences where amazing and I don't think I've ever received this level of appreciation from any audience before. Their appreciation is nothing to the gratitude I have for the US Troops who are out there doing there job everyday and never ask for a thank you. This was a truly life changing experience for me and if I can ever be of service again, USO, pleas call me."

Leonard Robinson – MTV'S Wild N' Out
"The experience I had with the Hollywood Knights and the USO was one that I will remember for two lifetimes. The people involved with this tour to Germany, Netherlands, and Belgium were all incredible: the bus driver, the sound engineer, Jeff, The Hollywood Knights, and the soldiers. This trip was one of the best times I have had in my entire life…filled with laughter and a sense of comradery. To see the faces on the families and on the soldiers and knowing that we were able to bring them a little bit of home and see their smiles made me proud to be with these guys on a great team! Thank you Hollywood Knights and USO!"

Wolf – American Gladiators
"As entertainers, we are often presented with opportunities to participate in charity organizations and various activities all across the board. And I can only speak for my self but a lot of the times, I don't necessarily feel like I deserve to be there. I mean after all, I am just an actor. It's not like I am curing cancer here people. In my short career, I have been flown all over the country and many parts of the world to do press, shake hands, and chip away at the open bar. Can't say I haven't enjoyed myself but I can say that there have been times I have walked away from an event, gift bag in hand, and had no real perspective on what cause I was there to promote or who the people were that we were supposedly helping. That being said, I have long been interested in being a part of a USO tour.

I never really knew exactly what that would entail but I knew I wanted to be a part. Maybe it's because in my head it would be a very small way to do something for the men and women that are actually paying with their time and sweat, and far too often their blood, to give people like me the opportunity to enjoy my life and lifestyle. Or maybe it's because I feel guilty for not serving my country like the men and women of out Armed Forces. Either way, when The Hollywood knights came calling and offered me the chance, I was all for it.

For the sake of not rambling on and on, I will cut to the part where after only a couple of games, I felt compelled to actually call my parents and my girlfriend and tell them that for the first time in my life as an actor, I was proud of myself for being a part of something. This trip and what were doing there was put into perspective for me before the first game even started.

The commanding officer at Manheim came into the locker room before the game and told us in so many words that we couldn't really comprehend how much this means to the troops and their families. He then went on to explain that we wouldn't see a lot of military men and women in the stands because they were 'down range, in Iraq and Afghanistan but would see their spouses and children. Think about that for a second. Here you are living in the states having a great ol' time and the phone rings with the news that you are to pick up shop, take your kids out of school and move to Germany for two, four or however many years. Then when you get there and you finally settle in, your spouse gets sent away for fifteen months to do their job somewhere in the Middle East. Here you are now, twelve thousand miles away from grandma and grandpa and your husband or wife, or mom or dad is gone for a year and you will talk to them once maybe twice a week if you are lucky.

These are the people that we came in contact with. These are the kids that we pulled out of the stands and put our jersey's on. These are the moms and dads that told us how grateful they were to us for coming over and making their kids laugh for a couple hours and more importantly, reminding all of them, men women and children alike, that the American public has not forgotten about them. This is what made me proud. This is what reminded me why I wanted to be an actor. It wasn't for the gift bag or for the open bar, but it was to put a smile on people's faces for a couple hours.

There wasn't a person we ran into that didn't thank us for taking the time out of our busy lives to come over there. Again, I can only speak for myself when I say that this was one of the best experiences of my life and I am truly grateful for the chance to be a part of it."

Geoff Stults – October Road, The Express
"I had a wonderful experience traveling to Europe with the Hollywood Knights and playing ball with the USO. I had never been to Europe before and I love basketball so I was really excited about the trip. After meeting the troops and families of troops who were "downrange" I gained a new respect for our armed forces and what they do for our country. The appreciation and respect is hard to put into words. These are ordinary people from ordinary families who have dedicated a few years of their lives and many times, their whole like to the protection of our country and the freedom of our allies. My experience was very informative and appreciative. I have learned a great deal and I would go back as many times as I am invited! Thanks for a wonderful experience!"

Deric "D-Wrek" Battiste – MTV'S Wild N' Out
Fan Testimonials
This experience by having these celebrities come to Germany to support our troops was terrific, and outstanding. I felt so lucky to be there knowing the celebrities really cared about what our dads, moms, and spouses were doing for our country. Getting the chance to actually meet them and take pictures with them was my favorite part :) I was so happy to hear i was going to the basketball game. When I got there I was just amazed at how much fun I had and how much they all cared about us. I begged my dad to take me to the second game an hour and a half away 2 days after the first game. I seriously was thanking him for a month. I just could not get over the fact that this was just an amazing moment and how much fun, and that the celebs cared about us. I really do hope they all can come back again
p.s tell them all I say hi :)
Thanks again! I loved it!
Favorite Celebs: Sam Page, Stephen Colletti
Memorable Moments: When the celebrities would pick some people out of the crowd to shoot some hoops. Also, when Stephen Colletti gave me his USO headband :)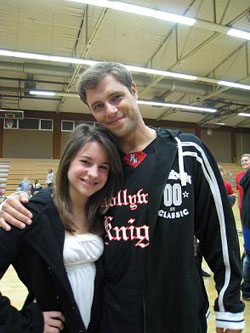 Kelsie
Age 12
Ramstein Middle School