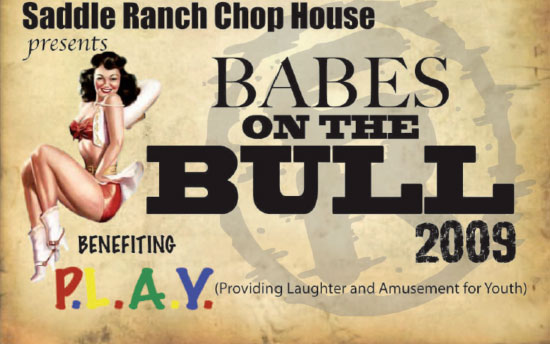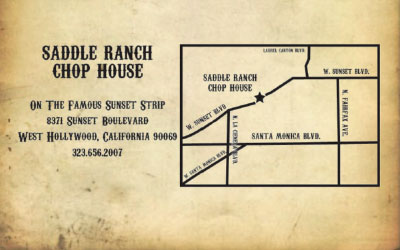 Sunday, January 25, 2009
12:00 PM – 5:00 PM
Open to the general public.
L.A.'s hottest girls ride Saddle Ranch's infamous mechanical bull for charity. Enjoy a fun afternoon of food and drinks, live entertainment, bid on sports and musical auction items, and mingle with celebrities…all for a good cause!

Ages 18 & up
Mature Audience Only

Please bring a new, unwrapped toy to the event.
P.L.A.Y. (Providing Laughter and Amusement for Youth) is a non-profit organization founded on the basic principle that every child deserves a smile every day. P.L.A.Y. strives to accomplish the simple goal of bringing instant smiles to the faces of children whose current life circumstances may otherwise give them little to smile about.
To accomplish its goals, P.L.A.Y. collects new toys, books, and games and distributes them to children in hospitals, homeless shelters, domestic violence shelters, and other organizations for underprivileged children.
P.L.A.Y. also accepts monetary donations that it in turn uses to purchase additional toys, books, and games for donation.
For more information about P.L.A.Y., please visit www.playforkids.org.
| | |
| --- | --- |
| | A.J. McLean - He has recently been performing on the "Unbreakable World Tour" as one of the singers of the multi-platinum group BACKSTREET BOYS that has sold over 75 million units worldwide. |
| | AnnaLynne McCord – She currently stars as "Naomi Clark" on the CW television series 90210. She recently was guest starring as "Eden Lord" on the television series NIP/TUCK. |
| | Claudia Jordan – She was primarily known as a Barker's Beauty on CBS's game show The Price Is Right from 2001 to 2003, and is currently a model on the US version of Deal or No Deal. Claudia usually holds case number 1. |
| | Cobi Jones - For 12 seasons he played the midfileder position on the LOS ANGELES GALAXY soccer team. In 1998 He was named U.S. Soccer Athlete of the Year. |
| | Colleen Shannon – She was the featured playmate and cover model for Playboy Magazine's 50th Anniversary issue.  She is currently touring the world playing at superclubs, venues, and events worldwide as one of the hottest and sexiest disc jockeys in the music scene. |
| | Corey Feldman - He and his wife are currently starring in their second season on the A&E television series THE TWO COREYS.  He had starring roles in the feature films FRIDAY THE 13th: A NEW BEGINNING, GREMLINS, THE GOONIES, STAND BY ME, THE LOST BOYS, LICENSE TO DRIVE, DREAM A LITTLE DREAM, MEATBALLS 4, and also starred for a season on THE SURREAL LIFE. |
| | D.J. D-Wrek - He is currently starring in his fourth season as the mix-master of music on MTv's comedy show WILD N' OUT. |
| | David Faustino - For the last 20 years he has been starring as "Bud Bundy" on the long running TV series MARRIED WITH CHILDREN.  He is currently starring in his new internet series STAR-VING. |
| | Geoff Stultz - He is currently starring as "Eddie Latekka" for two seasons on the television series OCTOBER ROAD. He also co-starred as "Ben Kinkirk" on the WB television series 7th HEAVEN. |
| | George Stultz – For five seasons he starred as "Kevin Kinkirk" on the WB television series 7th HEAVEN. |
| | Hellga - She is currently starring in her second season on the NBC hit television series AMERICAN GLADIATORS |
| | Jani Lane – With record sales around 10 million units and sold-out concerts throughout the world, he is the lead singer of the multi-platinum record rock band WARRANT. |
| | Jesse McCartney – He is currently touring the United States promoting his new album DEPATURE and hit single "How Do You Sleep". His first solo album BEAUTIFUL SOUL achieved platinum album status. He also starred in the television series SUMMERLAND. |
| | Kelly Monaco – She is currently starring for the last six seasons as "Samantha McCall" on the ABC daytime drama GENERAL HOSPITAL. She also won the 2005 competition on the hit show DANCING WITH THE STARS. |
| | Leonard Robinson - For four seasons he has been starring as one of the comedic improvers in the MTV television series NICK CANNON PRESENTS: WILD 'N OUT. He also starred for a season in the television series SHORT CIRCUITZ and in the ESPN mini-series THE BRONX IS BURNING. |
| | Roger Cross - For three seasons he starred as Agent "Curtis Manning" in the FOX hit television series 24. He's recently been guest-starring in the TV series THE GUARD and THE L WORD. |
| | Shanae Grimes – She is currently starring as "Annie" on the CW television series 90210. |
| | Susie Feldman – She and her husband Corey Feldman are currently starring in their second season on the A&E television series THE TWO COREYS.  She also had a recent layout in the August 2008 edition of Playboy |