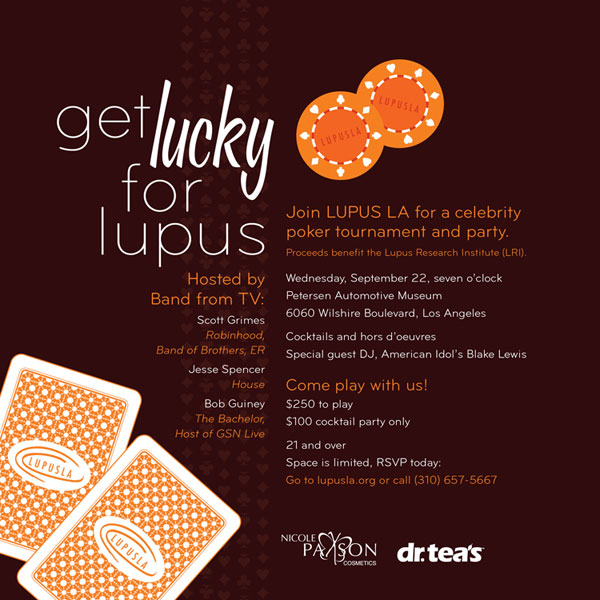 LUPUS LA Celebrity Poker Tournament and Party


With Lupus LA and Circle of Care

Wednesday, September 22, 2010 at 7:00 PM

Petersen Automotive Museum
6060 Wilshire Boulevard in Los Angeles
The Rooftop
Hollywood Celebrities, Athletes and Musicians will ante up for an important cause. Enjoy an evening of mixing, mingling and poker playing overlooking the views of Los Angeles.
The "Get Lucky for Lupus!" celebrity poker tournament and party will also include silent and live auctions with unique and priceless memorabilia from stars of sports, music, TV and film, a customized photo booth, celebrity deejay and MC, horsd'oeuvres and cocktails, music and fun hosted by young, hot celebrities.

Special Guest DJ - American Idol's, Blake Lewis
Link to 1st "Get Lucky for Lupus" Poker Tournament: http://www.hollywoodknights.com/2010Lupus.php

Table Sponsor — $3,500
Personal poker table includes eight seats; plus one Celebrity poker player
and a customized poker felt
Individual Poker Tickets — $250
Individual Cocktail Party Tickets — $100
Re-buy at the event — $100
Must be 21 to attend.
At the Door: $125 for Cocktail Party; $300 to Play Poker
Contact Lupus LA at 310-657-5667 with any questions
Here's the link to buy actual tickets to the event: http://www.doubleknot.com/Registration/CalendarDetail.asp?orgkey=2152&activitykey=838906
Event Sponsors:



Win a 4 day/3 night stay at The Hotel of South Beach, Florida (4 Diamond Hotel)
and dinner for two at the WISH Restaurant.


4 days/3 nights stay, round trip ground transportation from Mazatlan Airport to Estrella del Mar,
shuttle service all day long to the city of Mazatlan, two rounds of golf, welcome Margarita, breakfast daily.
www.estrelladelmar.com
Beauchamp
Distributing
Company
Event Sponsorship Information: http://lupusla.org/events/poker/201009-sponsorship.php



Scott Grimes (Host) – For six years he starred as "Dr Archie Morris" on the Emmy winning hit television series E.R. For the last five years he can currently be heard as the voice of "Steve Smith" on the FOX animated show AMERICAN DAD. For six years he also starred as "Will McCorkle" in the television series PARTY OF FIVE.

Jesse Spencer (Host) – He is currently starring as "Dr. Robert Chase" for six seasons on the hit FOX television series HOUSE M.D. He starred as "Bill Kennedy" in the television comedy NEIGHBOURS.

Bob Guiney(Host) – He starred in the fourth season of reality series THE BACHELOR. He also appeared as a contestant on THE BACHELORETTE. He currently performs with the BAND FROM TV.

Blake Lewis - He wowed millions of viewers around the world with his eclectic and funky beat boxing on the highest rated show in television history, AMERICAN IDOL.  He has since sold over 360,000 albums with his first two releases and graced the top of two Billboard charts at #1 with the title track from his sophomore album, HEARTBREAK ON VINYL.

A.J. McLean - He is a member of the multi-platinum music group BACKSTREET BOYS that have sold over 75 million units worldwide and have continued to sell out shows around the world since they began in 1993.

Barry Williams – He currently hosts The Real Greg Brady's Totally '70s Pop Quiz starring Barry Williams Saturdays on Sirius Satellite Radio's "Totally '70s" channel. For five years he starred as "Greg Brady" in the American iconic hit television series THE BRADY BUNCH.

Brandy – She is currently competing on the 11th season of ABC TV's DANCING WITH THE STARS. She is one of the best-selling female artists in American music history, having sold over 8.4 million copies of her five studio albums in the U.S. and over 30 million records worldwide, won over 100 awards as a recording artist, and Billboard ranked her among the top 20 of the top pop artists of the 1990s. She starred in the television series MOESHA and BRANDY AND RAY J, and in the film I STILL KNOW WHAT YOU DID LAST SUMMER.

Brittny Gastineau – She is a well-known model was the face of the Ed Hardy campaign.  She starred in her own highly rated E! Network television series the GASTINEAU GIRLS and was a celebrity contestant on the reality television series FILTHY RICH: CATTLE DRIVE.
Carl Weathers – He is best known for his iconic portrayal of "Apollo Creed" in the blockbuster ROCKY movies.  He's co-starred in the films HAPPY GILMORE, PREDATOR, ACTION JACKSON and recently starred as "Coach Trainor" in the television series BROTHERS.
Chad Rogers – He is currently starring is his fourth season of the Bravo Network reality television series MILLION DOLLAR LISTING.

Chuy Bravo

– He currently stars as the famous assistant on the popular E! Network television series the CHELSEA HANDLER SHOW.

Curt Menefee – He is currently the host of the FOX Network's NFL show FOX NFL SUNDAY. 
Dave Stewart – He is a former Major League Baseball starting pitcher.  A 20-game winner for 4 consecutive years, a 3X World Series Champion and 1989 World Series Most Valuable Player, and 2X ALCS MVP.  He pitched a no-hitter in 1990.

Derek Hough – He is currently starring in the hit ABC television series DANCING WITH THE STARS. He also is a singer in his musical group the BALLAS HOUGH BAND.

Howie Dorough – With over 130 million records sold worldwide, and one of the biggest selling groups of all-time; he is currently one of the lead singers in the multi-platinum hit musical group BACKSTREET BOYS. Howie D. established the Dorough Lupus Foundation as the direct result of and in memoriam for the tragic loss of his sister Caroline to the devastating disease.

Ian Gomez – He is currently starring as "Andy Torres" on the new ABC Television series COUGAR TOWN. He has had starring roles in TV series such as: RITA ROCKS, JAKE IN PROGRESS, THE DREW CAREY SHOW, FELICITY, and THE NORM SHOW.

James Denton - He is currently starring for five seasons as "Mike Delfino" on the Golden Globe winning television series DESPERATE HOUSEWIVES.

James Kyson Lee

(tentative) - He starred for four seasons as "Ando Masahashi" on the hit NBC television series HEROES.
Lisa Gastineau - She starred in her own highly rated E! Network television series the GASTINEAU GIRLS.

Maksim Chmerkovskiy - He is currently starring as one of the professional dancers on the hit ABC television series DANCING WITH THE STARS. His celebrity partners have included Tia Carrere, Willa Ford, Laila Ali, Mel B, Misty May-Treanor, Denise Richards, Debi Mazar and most recently Erin Andrews.

Matt Goss – He is currently performing his Las Vegas show at the Caesars Palace in Las Vegas.  He was a member of the 1980's hit UK band BROS which achieved 11 Top 40 singles and 3 Top 20 albums in the United Kingdom.  As a solo artist, he ranks as one of the most successful artist in the history of the UK charts.

Nicholas Gonzalez (Tentative) – He starred as "Detective James Rodriguez" on the CW television series MELROSE PLACE. Last year he starred as "Arturo Suarez" in the television series MENTAL. He also starred in the TV series' THE O.C., AMERICAN FAMILY, and RESURRECTION BLVD.

Paul Johansson - He is currently starring in his fifth season as "Dan Scott" on the CW television series ONE TREE HILL. He had starring roles in the popular television series' HIGHLANDER: THE RAVEN, LONESOME DOVE, PARKER LEWIS CAN'T LOSE and BEVERLY HILLS 90210.
Peter Jacobson – He is currently starring as "Dr. Chris Taub" in the hit FOX television series HOUSE M.D. 

Ryan Eggold – He currently stars as "Ryan Matthews" on the CW hit television series 90210.

Shanna Moakler – She starred as "Officer Monica Harper" on the television series PACIFIC BLUE. She was a featured dancer on the TV series DANCING WITH THE STARS and starred in her reality series MEET THE BARKERS. She is a former Miss U.S.A., Miss New York and Playboy Playmate of the Month.
Shante Broadus – She is the wife and former manager of rapper icon SNOOP DOGG.  She is a clothing designer with her own line called "CoCoRi" and spokesperson for the Lupus LA organization.

Tiffany Michelle - Poker pro and former star of CBS's "Amazing Race." She set a record for female poker players, placing 17th out of 6,844 players at the 2008 World Series of Poker.

Tony Dovolani - is an Albanian American professional ballroom dancer who has traveled the world and won many dance championships. He is best known for his involvement in the ABC television seriesl DANCING WITH THE STARS. He also portrayed a Latin bad boy in the hit film SHALL WE DANCE?

Willie Roaf – He played tackle for nine years with the New Orleans Saints; named to seven Pro Bowls, and won a spot on both the NFL 1990s All-Decade Team and the 2000s All-Decade Team, making him the most awarded player in Saints history.  He was selected for the Pro Bowl in each of the four years he played with the Kansas City Chiefs, for a total of 11 Pro Bowl selections.