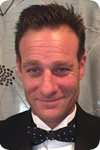 Producer, Promoter, Fundraiser, Entrepreneur. His friends call him a work-a-holic and he smiles with the reply "When you love what you do you naturally want to spend as much time as you can doing it."
Michael is currently the Chief Executive Officer of Hollywood Knights International (www.HollywoodKnights.com) which is a full-service celebrity events production and promotional firm. He specializes in producing Celebrity Fundraising Events (Basketball, Golf, Tennis, Skiing, Bowling, Poker, Softball, Paintball, Karting, and Yachting), Galas, Grand Opening Celebrations, Product Launches, and booking Public Appearances with American celebrities. He has successfully produced major events all over the world since 1985 and has raised millions of dollars for various charity organizations worldwide.
Although Hollywood Knights International is a worldwide celebrity-driven production & promotional company, "Hollywood Knights" is also the name of the celebrity basketball team that Michael has managed for thirty-one years and owned for the last twenty-six years. The Hollywood Knights promotes celebrity fund-raisers for high schools in the southern California area using the basketball game as the source of entertainment. He has been producing these events and other sporting events held around the world that incorporates celebrities in the activities. In August 1994, Michael was recognized by the City of Los Angeles with a "Certificate of Appreciation" for his donation of time and energy in helping raise hundred's of thousands of dollars for the southern California high school system. His company is also involved with television productions, variety concerts, real estate, and night clubs/restaurants.
Michael was a partner of the restaurant/nightclub called cinespace (http://cinespace.info/) with dining and drinks while overlooking Hollywood Boulevard. The main movie theatre room is where patrons can enjoy a full dinner with guest seating for up to 200 people; and watch some of the latest movies in the film industry. There is a private VIP glass room and a separate bar area with its own DJ. After the movie, the venue is turned into a full blown dance club with the latest in visual technology and sound enforcement.
Michael got his start working as an assistant in a back storage room of his father's production company David Mirisch Enterprises. He spent some time listening to how his father did business and how he persuaded the biggest names in Hollywood to join him in raising money in some town somewhere in America. Michael's first account was to book basketball games which he started a new excitement in the Los Angeles School District by bringing young celebrities to play the faculties of the Southern California high schools. He then started booking talent for some of the company's bigger events and took over show operations while on the event tours. He was promoted to Vice President and started producing the tours and shows for the company which included 30 celebrities per show/event. "I spent most of the year on the road living out of a suit case, but the energy of what we were doing would keep me going for weeks." David Mirisch Enterprises was producing 20 celebrity fund raising weekend tours a year and Michael brought a whole new element of direction and branding to the company. Michael produced hundreds of fundraising/sporting events involving celebrities at golf and tennis resorts through out the United States. He was in charge of the entire event, handled all logistics and production needs, travel arrangements, tournament play, and budgets.
Michael produced hundreds of variety shows and concerts throughout the United States in mid to large venues with top Hollywood and Las Vegas talent and big show performers. Some shows broadcasted live on local and national channels. He was in charge of every aspect of the show from hiring and travel arrangements for talent & crew, creating production schedules, negotiation of contracts with venues, creating stage layouts and prop ideas; logistics and set up for sound, lighting, props, staging, ball room décor, table designs, and room layouts.
While at D.M.E., he negotiated contracts, secure personal appearances, publicity, and press junkets of "A" list celebrities. Was an Associate Producer of independent television shows and pilots mostly focusing on live event situations involving celebrities. Was the Athletic Coordinator for fifteen years with the Victor Awards show booking talent, coordinating travel arrangements and logistics of world class athletes' participation and appearance during the production. Some shows were tape-to-air and others were done live telecast.
He spent a year working with an entertainment investment group on developing entertainment companies and raising capital for entertainment companies going public. He also acquired his stockbrokers' Series 7 license and Series 63 license from the National Association of Securities Dealers (NASD).
In the late 1980's, Michael started managing a group called Boys Club through the Los Angeles Club scene. Booking the band in every major and minor night club throughout Southern California. Michael was heavily involved in the local Sunset Strip rock club circuit including The Troubador, The Whisky, The Roxy and many others, the bands that played the circuit, and was a pitch man to A&R record executives. That led to his management of Undercover, which was considered one of the biggest Christian rock bands of its time and considered the pioneers of the Christian Alternative Rock movement. Undercover recorded a total of eight studio albums, two live albums and toured all over the world. "I loved being on the road with the band. You would show up to a different city and do the show all over again. You can't ever get sick of hearing the roar of the crowd."
Michael was the Tour Producer & Manager of Undercover & Boy's Club and other musical acts for six years. He developed national and world tours with support acts doing 150 – 200 shows a year. Arranged all travel of artists and crew, negotiation of all contracts with venues and promoters, oversaw all logistics of each show including sound, lighting, staging, production schedules and budgets, branding, merchandising, and the general development and look of the artist.
While still at D.M.E., Michael started working with Los Angeles based radio station 106.7 FM KROQ as an assistant to radio disc jockey The Poorman producing his live events and overseeing his club gigs. Michael eventually managed the KROQ Bikini Team and co-organized KROQ large scale live remote events which included the Poorman's appearance. Michael co-produced the morning show with "Poorman & Richard Blade". While working the late night shifts of the show "Love Line" at the radio station, Michael started to bring in his Hollywood clientele weekly to the show to co-host with Poorman and Dr. Drew and answer questions to troubled teen callers about their lives, relationships, and dependency issues. Listenership shot way up for this show and the popular evening program was the most talked about in town. This started a trend which continued on for years and eventually led to the hit MTV show "Love Line".
One thing Michael has been able to guarantee is that no matter what venue of his you walk into that he is doing, you will always see some of Hollywood's top film, television, and music stars. With his promotions company, Mirisch Entertainment Group, Inc., Michael and his team consults with the most popular clubs in Los Angeles, on the business of party throwing and profit making.
"Mr. Hollywood" got started after a surprise party for his 21st birthday that was held at the Hard Rock Café and attended by numerous television celebrities and many entertainment industry executives. The party was such a success; there was a popular demand for more. At the time, Michael was producing celebrity-sporting events with his D.M.E. and kept in personal contact with hundreds of celebrities a week. He took that to his advantage by inviting them to functions he was holding and as the events progressed over time, so did the parties in size.
Michael's first regular venue begun with the grand opening of the 1500 person capacity Shark Club, in downtown Los Angeles; famous for its sister club in Las Vegas. With its million dollar lighting system and midnight show to exploit, Mirisch said "Opening weekend started off with a party hosted by M.C. Hammer one night, Madonna the next night, and then my whole celebrity group came out on Saturday night! By 11:00, we were way over capacity and 1,000 people in line around the block. It was amazing." Having a successful Saturday night at the Shark Club brought on the invitation to join in with the new owners of Bar One and begin Thursday nights.
In 1992, Michael took a leave of absence from his father's full time business and opened up his own entertainment production company called Mirisch Entertainment Group. M.E.G. was focused on young generational events and parties and included the buy out of the rights to the celebrity basketball team from his father. To this day, Michael says "The basketball team was the greatest gift my father ever gave to me because it has helped shape my whole life and who I've interacted with for over twenty years." He started booking lots of basketball games with great talent and that led to a whole lot of doors being opened for various events and parties.
Thursday's at Bar One became one of the hottest club nights of the week stressing on new hip-hop groups and attracting the young celebrity brat pack of those years. Later on Brian Austin Green from the cast of "Beverly Hills 90210" joined on as a partner and everybody in town was talking about what was happening in the small Beverly Hills bar that was known as the local Hollywood hangout. Michael's regulars consisted of a high profile who's who in entertainment: Charlie Sheen, Emilio Estavez, Nick Cage, Carey Elwes, Judd Nelson, the 90210 cast, the NBC Saturday morning show kids, Gary Busey, Jean Claude Van Dam, Vince Neal, David Lee Roth, Eddie Murphy, Arsenio Hall, and the Artist formerly known as Prince. Mirisch Entertainment Group ran the operations and promotions for two years and bringing in revenue close to two million dollars on just a one-night a week promotion. Needless to say the place was always packed out.
At the end of 1994, it was time to move Michael's loyal following to a larger venue and the talked about transition to Roxbury was made. Management wanted to shuffle him around and he surprised them by making each challenge successful with filled houses and a crowd that loved the art of partying. With promotions from Tuesday to Thursdays to Fridays, Michael has been responsible for millions of dollars in revenue for the long running Roxbury. Mirisch Entertainment Group was the in-house promotions company for three years and was able to revive the once-forgotten reputation of the famous Roxbury with themes like "Hollywood Knights", "Gothic", "Conspiracy" and "Out of Control."'
Every weekend night, year after year, Michael Mirisch stood at the top of the VIP stairs of the World Famous Roxbury Supper Club located on the Los Angeles Sunset Strip. As hundreds of guests arrive shouting out "Hey, it's Mr. Hollywood"; a nickname deem to him by his club hopping buddies.
In the fall of 1995, Mirisch Entertainment Group merged with the other top promoters in town and picked up the Saturday night promotions at the Savoy (formerly the Renaissance) in Santa Monica called "Pandemonium". In December of 1995, Mirisch Entertainment Group and Artist Groove Network produced "Highwire" located at The Century Club on Thursday nights; a circus based theme with trapeze acts, little people twirling plates amongst other things, clowns, cotton candy machines, game booths and other under the tent acts. Michael said before the opening "This will be one of our biggest events as we bring the circus theme and night life atmospheres together. The powers that be that are involved include some of the most recognized names in the L.A. bar business. L.A. is crying for something new and I think we are going to really shock them with this one." This event put Mirisch on the top of the promotions market by being the only promoter with three separate venues on weekend nights with capacities exceeding a thousand people.
Michael says the future is in the merging of the most well known club promoters and monopolizing the clientele to faithfully attend each venue that these top promoters are involved with. He continues doing special one-off events during holidays and strives harder to bring his following something more exciting that just a d.j. and a place to dance…."It's all in the production of the event."
As a twenty-eight year veteran in the nightclub business, Michael Mirisch is still regarded as one of the most prestigious club promoters in Los Angeles. On January 25, 1996, Michael Mirisch was awarded "Club Promoter of the Year" for 1995, recognized for his involvement and success running thirteen separate venues in one year. Michael gets introduced to people many times by the word legendary promoter, when he's asked how he feels about that honor he replies with humility "I was just throwing the best party I knew how to; it was my friends and their cool friends that made up the crowd and what made the parties so great."
Summer of 1996, Michael co-hosted Thursday nights at the newest celebrity hideaway called The Beverly Club, a posh underground social club located in the heart of Beverly Hills. Sectioned off into four rooms, the upscale dinning crowd is filled with entertainment heavies and an array of film stars and models. The pool room and main bar are scattered with the elite Hollywood club attendants, "…and everybody needs to pull out their Armani's" says Michael. In the beginning of 1997, Michael co-hosted Wednesday nights at The Gate with D.K., Eric & Herman, and was considered the hottest Wednesday night for two years. Michael had a few months of a night called Atmosphere on Friday nights at Club 8531.
Michael's private parties were something out of a Hollywood movie operating every other weekend in private mansions around Beverly Hills, Hollywood, and through out Los Angeles. Sweet Daddy Browns ran for four years, The White House which was an exclusive home in Beverly Hills, and King's Mansion was hosted bi-monthly by the Prince's from the United Arab Emirates. One of his most successful and still to this day talked about parties was called The Pointe, which sat on an exclusive 2 acre hilltop in Beverly Hills with 180 degrees of view of the city below with a line of cars two miles long waiting to enter his valley of fun. "We had lots of lawn area which overlooked the city and got our design team to bring in couches, chairs, furniture, lamps and coffee tables and laid them all over the property along with our indoor dance club. This was by far one of the coolest parties I ever produced."
Through all this, Mirisch had his hand in tons of other things. From 1998 - 1999, he was the morning show producer on L.A.'s newest house music radio station GROOVE RADIO (103.1) hosted by The Poorman until the station was sold. He was brought in by the City of West Hollywood as an Ambassador of NightClub Promoters to help the city run one of the biggest party towns on the West Coast. He wrote a column in Industry Insider Magazine entitled "The Mr. Hollywood Report" which covered what was going on in the club world, grand opening reviews and who was the hot promoters at the time.
In March of 1999, the "mockumentary" independent movie 20 DATES was released in limited release through Fox Searchlight Pictures where Michael was credited as an Associate Producer. The movie received a massive media blitz and became a critically acclaimed film that has made every audience laugh to the very end. The movie won the Audience Award for Best Feature at the Slamdance International Film Festival and was nominated for the Grand Jury Prize. Theatres were selling out across the country when the studio decided to release to hundreds of movie theaters nationwide. HBO aired the film almost three times a day for six months. "I loved shooting this movie because it was so real, and the girls when they found out they were on film, led to some of the greatest scenes in the movie. – I hope we can shoot "Another 20 Dates".
Plot Summary: Myles is divorced in L.A. He wants a love life and a film career. So he decides to go on 20 dates and find true love in front of a camera, making his first feature. His patient agent, Richard, finds a $60,000 investor, the shadowy Elie. Myles starts his search, sometimes telling his date she's being filmed, sometimes not. Elie wants sex and drama; Myles wants it "real." Myles regularly talks with his old film teacher, Robert McKee, who wonders if love is possible in modern life. Halfway through the 20 dates, Myles meets Elisabeth; she's everything he desires and she likes him. Can he finish the 20 dates, satisfy Elie, and complete his film without losing Elisabeth? You must watch the film to find out. Go rent it, its very funny. – mature content, rated R.
Michael spent two years at MGM Studios working as the Executive Associate for the Senior Vice President of Participations and Residuals. "I was in charge of making sure the millions of dollars got out weekly to all of our producers, directors, writers, and actors along with the numbers to prove it." Michael took all the corporate experience he learned from MGM and wanted to get back into live production and his first love, the Hollywood Knights Celebrity Basketball Team.
It was the Millennium and Mirisch Entertainment Group and Hollywood Knights was kicking off a banner year. Michael booked 21 basketball games that first year back after a few light years of games on the schedule. The Hollywood Knights was on fire and the half time acts where the new buzz of the show.
On December 31, 1999, Michael and his friends rented out the entire Hyatt on Sunset Strip hotel to throw his Millennium Party with every room being booked and a roof top party that overlooked all of Los Angeles at midnight as the year hit 2000. The party lasted for three straight days.
In 2005, all of our charity fund-raising business shifted under the umbrella of the Hollywood Knights, Inc. which was granted a non-profit status by the I.R.S. Hollywood Knights has a redeveloped corporate approach to meeting the charities needs, the talents needs, and generating maximum exposure with Michael's celebrity contacts for a wide range of events and the Hollywood Knights branding that is now being recognized internationally.
Hollywood Knights, Inc,
www.HollywoodKnights.com
818-654-9399
Los Angeles, California