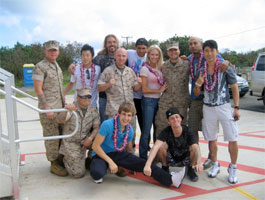 The Hollywood Knights is honored to be working with the United Services Organization (www.uso.org) in fulfilling our third mission of boosting troop morale by bringing celebrities over the Atlantic. The Hollywood Knights Celebrity Basketball Team will participate in a good will tour visiting various military bases throughout Italy and mixing with the families of the soldiers who have been sent downrange. The Knights will play a series of ¬basketball games against a team comprised of members of the U.S. Military troops at the various military bases. These games will provide fun and exciting competition with stars never before experienced by our troops and their families overseas.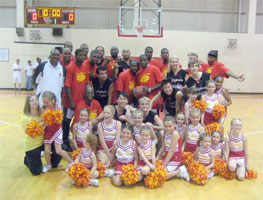 This game will be complimentary to all United States military and Department of Defense card holders, their families, and their immediate guests on the various bases that are listed below. Please contact the base MWR for more details.
Sorry to all of our fans that are not part of the United States military and/or their families as these games will NOT be open to the general public.
We welcome you to come out and spend some time with the Hollywood Knights and experience some fun with us for just a little while. Bring your cameras and get some autographs. You might even have a chance to take a free-throw shot for the Hollywood Knights team.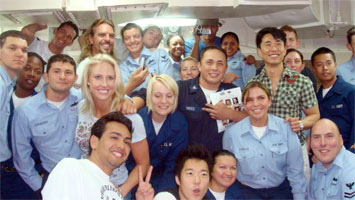 The USO is a private, nonprofit organization whose mission is to support the troops by providing morale, welfare and recreation-type services to our men and women in uniform. Historically, few events have left a more lasting emotional impression on service members and their families than USO celebrity entertainment tours.
Read Celebrity Testimonials from our previous USO tours to Europe and Hawaii.

View videos from our previous USO tours.
USO Tour Schedule:
DATE
Team
CITY
STATUS
October 15, 2009
Naval Air Station Sigonella
Sicily, Italy

WON

One of the most frequently used stops for U.S. airlifters bound from the continental United States to Southwest Asia and the Indian Ocean.
October 17, 2009
NATO Base Gaeta
Gaeta, Italy
LOST
October 18, 2009
NSA Naples
Naples, Italy
LOST
October 20, 2009
Aviano Airbase
Aviano, Italy
LOST
HQ of the 31st Fighter Wing which conducts and supports air operations in Europe's southern region and to maintain munitions for the NATO and national authorities.
October 21, 2009
Ghedi Airbase handshake tour
Ghedi, Italy
Home of the 31st Fighter Wing.
Press:
October 13, 2009 - Hollywood Knights Celebrity Basketball Team Scores with Service Members in Italy